QS/1's Document Management System (QDM) provides a way to manage documents in QS/1's NRx® Pharmacy Management System. Documents may be entered into the system via fax, upload, scan or sent as an attachment in an email. All documents are encrypted and stored on the QDM server's hard drive.
User Accounts
There are three different types of User Accounts: System Administrator, General User and Manager. Annotation colors can be assigned to specific users in order to easily identify who creates certain notes on a document. Generic text stamps can also be created for various reasons (e.g., discontinues, voids, etc.) and can be quickly applied to any number of documents. Other annotations can be typed directly on the form, and the stamp and annotation colors are associated with the user who updated the document.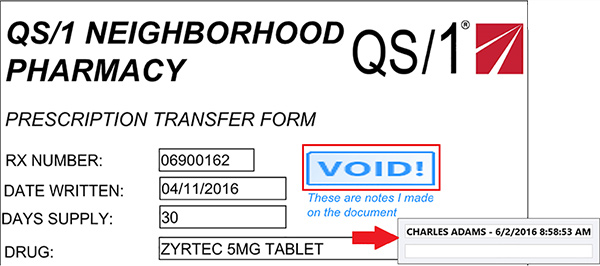 Queues
QDM allows for the setup of any queue, for any reason, and the names to be customized. Once queues are created, they can be assigned to specific users and names can be edited. Queues can also be deleted. The queue scan shows all queues, the number of documents in each and the number of users associated with each queue.
Routing Rules
Routing Rules apply to inbound documents and can be set up for specific queues. The system can automatically forward documents associated with certain barcodes, fax IDs and email addresses to queues linked to values. The rules include the name, type, value associated with the rule and the destination queue.
In the example below, any document attached to an email received from charles_adams@qs1.com will automatically be sent to the queue labeled Inbox.

Email
QDM provides the ability to receive standard inbound emails and automatically create documents from file attachments. The currently supported attachment types for email are PDF, BMP, JPG, PNG and TIF. Any text in the body of the email will not be imported into QDM – only the attachment – and an additional email address should be created for QDM. Email accounts used to receive inbound emails are set up under the email segment of QDM's configuration. QDM routes the document associated with the email to the appropriate queue.
Forms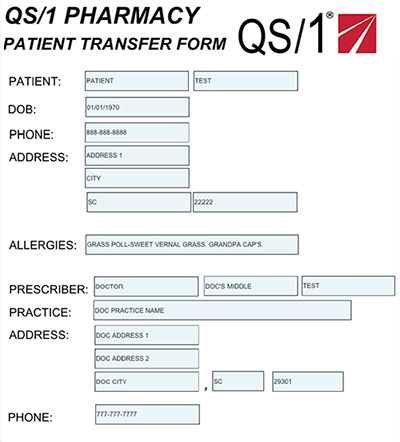 QDM also allows the creation of any form for any purpose, such as Prescription Transfer Forms, Patient Transfer Forms, etc. Like cover pages, forms can be either created manually or uploaded into QDM. Textboxes can also be placed on the form and automatically populated with information from records in NRx. NRx can also automatically populate QDM forms with values from 112 different fields, including patient, facility, prescriber, NP/PA, drug, prescription, ancillary, transaction and clinical records. The following example shows a Patient Transfer Form manually created in QDM, including some values automatically populated from NRx. QDM sends and receives documents and automates the placement of documents in order to organize, store and retrieve them.
For more information, contact your QS/1 sales representative or Marketing at 800.231.7776.
Share this post