With the cost of healthcare higher than ever, the need for improved patient outcomes is also higher. The focus on patient care has always been important, promoting patient safety and overall health. Now the Centers for Medicare & Medicaid Services (CMS) and other healthcare plan providers see the need to increase patient-care services in order to decrease costs as well. Increasing patient medication adherence and ensuring patients are taking the correct medications has been linked to huge savings within the healthcare industry. This result has generated more emphasis on medication therapy management (MTM), requirements for tracking patient adherence scores using a Medication Possession Ratio (MPR) and closer monitoring of overall patient outcomes.
What does this mean for community pharmacies? The increased focus on patient care provides two things that are very important to independent and small chain pharmacies. One, community pharmacies are the ideal place for patient-care services. Independent pharmacists know their patients better than anyone and have built relationships based on trust and loyalty. These patients know their pharmacist can provide the personal touch they need when dealing with their medical conditions. The patient care provided allows for customer retention and healthier customers – a win/win situation. Two, the services provided can not only improve patients' health but can also improve the health of the pharmacies' bottom lines. With CMS recognizing the need for MTM, MPR score tracking and other services, there are opportunities for revenue generation directly to the pharmacy or indirectly to the pharmacy by increasing the Five-Star Quality Rating and placing them at the top of a preferred network.
MTM Statistics
The 2015 Medicare Part D Medication Therapy Management Programs Fact Sheet provided by CMS shows there are 677 Part D contracts approved for MTM programs. These were broken down into the following categories:
538 Medicare Advantage prescription drug plans (MAPDs)
70 stand-alone prescription drug plans (PDPs), including Employer contract MTM programs
69 Medicare-Medicaid Plans (MMPs)1
Within these programs, local pharmacists provided 14.6 percent of the Comprehensive Medication Reviews (CMR), which is one of the minimum requirements for MTM services.2 This statistic is anticipated to be higher in 2016, based on the number of opportunities that will be presented moving forward. An increase in the number of MTM cases will provide an increase in revenue opportunities for pharmacies.
In 2016, CMS will provide MTM opportunities for patients who meet the following three requirements:
Have more than one chronic health condition
Take several different medications
Use medications that cost more than $3,507 for the year combined (patient cost and patient plan's cost)3
QS/1 Tools for Leveraging Better Care and Patient Outcomes
QS/1's NRx® and PrimeCare® GUI Pharmacy Management Systems have been equipped with Patient Outcome tools for many years. However, with the focus on patient and value-based outcomes, these tools are now more important than ever. If pharmacies plan to manage patient outcomes internally, in addition to web-based outcomes, the use of the Patient Chart becomes very significant.
The Patient Chart can be accessed from the Patient Record by clicking View, Patient Chart. The initial screen of the Patient Chart allows pharmacy staff to input additional demographic information. Different options are available along the left side of the record: Additional Medications, Alternate Conditions, Progress (SOAP) Notes, Lab Values and Immunization Records. The Additional Medications section allows for other medications the patient may be taking to be entered. So, if the national drug codes (NDCs) for those medications are in the system, it provides an additional clinical check for drug interactions. There are also reports available from the Patient Chart that are very useful. One in particular, the Personal Medication report, provides patients with a formatted report containing demographic, prescriber and prescription information that include directions for use.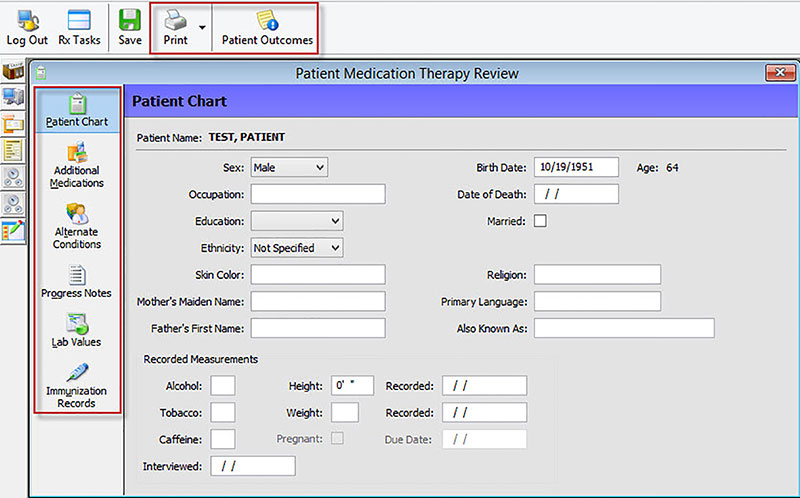 Web-Based MTM
With the release of Service Pack 19.1.15, QS/1 introduced a free interface to Mirixa®, a web-based clinical platform used by pharmacists to deliver standardized MTM services. Once users are authorized for Mirixa and have their username and password, the pharmacy system automatically queries Mirixa daily to check for open MTM cases.
The query is based on the National Council for Prescription Drug Programs (NCPDP) numbers, and patient matching is based on demographic and insurance information. If a patient is MTM eligible, MTM Eligible displays on the Patient Record and the Prescription Summary. This process does not interrupt system usage and no intervention is required from the pharmacy.


For MTM Eligible patients, log into the Mirixa website to work open cases. For quick access to the Mirixa website directly from NRx or PrimeCare GUI, use the Favorite Websites link under the Help menu.


If you are interested in participating in the Mirixa program, contact QS/1 Database Services to enroll at 800.845.7558, ext. 1424 or email databaseservices@qs1.com. Database Services will contact Mirixa with your pharmacy information to verify participation authorization. Once verified, Database Services will contact you and turn on the authorization flag for the pharmacy to initiate the service. You will then contact Mirixa for your username and password at Support@mirixa.com or 866.218.6649. You still have the option to use the MTM features in the pharmacy system, but they are completely independent of Mirixa.
Medication Possession Ratio
Also, with the release of Service Pack 19.1.15, QS/1 developed a program to calculate patient adherence ratings by using the MPR. The MPR option is available in both NRx and PrimeCare GUI. Select the Activate MPR% option found under Store Control, Store Level Options to use this feature to calculate the MPR% for patients who are taking medications that are classified as MPR Drugs. The MPR% value displays at the patient level to provide an overall adherence value and at the prescription level to show each prescription adherence value. An MPR% in black is anything over 80 percent, and a value in red is anything less than 80 percent. The Patient MPR% report is a great tool to use once there is a good base of patients showing MPR%. Use this report to show all patients under 80 percent in order to pay special attention to their prescriptions in the future. This will help improve adherence and provide better patient outcomes.
QS/1's Commitment
As healthcare plan providers continue to increase the focus on patient-care programs to help decrease healthcare costs, QS/1 is committed to providing the tools needed to track patient adherence and overall health outcomes.
Sources:
1, 2 Centers for Medicare & Medicaid Services. August 2015. Web. 15 Feb. 2016. https://www.cms.gov/Medicare/Prescription-Drug-Coverage/PrescriptionDrugCovContra/Downloads/CY2015-MTM-Fact-Sheet.pdf
3 Centers for Medicare & Medicaid Services. Feb. 2016. Web. 15 Feb. 2016, 2016 Plan MTM Program Eligibility Information (v02 1.7.16). https://www.cms.gov/medicare/prescription-drug-coverage/prescriptiondrugcovcontra/mtm.html
Share this Post