NCPA Past President Sal D'Angelo was credited with the expression, "Get into politics or get out of pharmacy." That was nearly 50 years ago when the National Community Pharmacists Association (NCPA) held its first legislative conference − one of the first such events in the profession. Even though times have changed, the importance of that message for pharmacy owners has not.
Today, politics dominate most news cycles and many Americans are very frustrated with Congress. While the intensity may be new, being frustrated with Congress is not. In the 1920s and 30s, popular humorist Will Rogers said, "The more you observe politics, the more you've got to admit that each party is worse than the other."
While frustration with politicians has not changed over the years, the government's influence on pharmacy has grown radically. Medicare, Medicaid, TRICARE, federal, state and local employee prescription plans plus regulations from the Drug Enforcement Administration (DEA), the Food and Drug Administration (FDA), your state board of pharmacy and compliance with local business licensing and regulation requirements are just some of the ways the government influences your business.
This point serves as a reinforcement of D'Angelo's words. Being active in politics is voluntary. But, by being a pharmacy owner or pharmacist, you are deeply impacted by politics − like it or not.
NCPA was founded on political activism. In 1898, a group of pharmacists protested a prescription drug tax to fund the Spanish-American War, and NCPA was born. While the organization is involved in many efforts to assist community pharmacists, we have politics in our DNA. To ensure NCPA stays connected to our members' wants and needs, we conduct annual surveys and garner input from member committees, emails, phone calls and the NCPA's Board of Directors, which is made up of pharmacy owners, to ensure we focus our resources on what's most important to them.
An overview of NCPA Priority Issues and Legislation can be found at: www.ncpa.co/pdf/ncpa-fed-leg-priority-grid.pdf. The overview includes:
S. 413/H.R. 1038, Improving Transparency and Accuracy in Medicare Part D Spending Act
H.R. 1316, Prescription Drug Price Transparency Act S. 109/H.R. 592
Pharmacy and Medically Underserved Areas Enhancement Act
S. 1044/H.R. 1939, Ensuring Seniors Access to Local Pharmacies Act
H.R. 2871, Preserving Patient Access to Compounded Medications Act
The highest-priority issue identified by NCPA members is pharmacy direct and indirect remuneration (DIR) fees. The monetary size of these retroactive clawbacks, and their unpredictability, make them a constant threat to pharmacy owners. NCPA has worked with members of Congress who have introduced legislation. Additionally, we asked one of the top actuarial firms in the country to assess the impact of DIR fees on patients and analyze the financial effect of DIR-related legislation (called a "private score" in DC speak). The results of the private score are noteworthy because they found $3.4 billion in savings to the government over 10 years if legislation was enacted. The Congressional Budget Office (CBO) still needs to complete an official score, but the private score analysis elevated the need for Congress to do something about pharmacy DIR.
For decades, NCPA has fought a solitary campaign as the conscience of pharmacy benefit managers (PBMs), calling out the numerous ways they have disadvantaged pharmacies, patients and payers. In the last several years, more groups have begun to echo our call for transparency.
Last year, following a heated Congressional hearing where the CEO of Mylan Pharmaceuticals was grilled for her company's dramatic EpiPen® price increase, some pharmaceutical manufacturers also began to voice their concerns for the role PBM middlemen are playing. NCPA believes the current large PBM business model contributes to the higher cost of prescription drugs.
NCPA leadership's call for changes to the current PBM business model was illustrated in the last quarter of 2017. In addition to requests for legislation and the pharmacy DIR private score, NCPA:
Represented community pharmacy before the Federal Trade Commission on the subject of prescription drug pricing and the role PBMs play.
Worked with NBC and other pharmacy groups for several months on a story that ran on "NBC Nightly News" with Lester Holt on October 16 titled, "Could Your Health Insurance Be Costing You Money at the Pharmacy?" that focused on a practice used by some PBMs to overcharge patients' copay.
Of course, all this good work takes resources. NCPA is a non-profit organization, and we rely on support from members and industry partners like QS/1 to help keep our lights shining brightly. We work with, and go against, some of the biggest names in the industry. Below is a list of lobbying expenses recorded for the previous two-year Congressional cycle.
Lobbying Expenses, 2014-2016
Pharmaceutical Research and Manufacturers of America = $40.8M
CVS Health = $32.5M
National Association of Chain Drug Stores = $8M
National Community Pharmacists Association = $5.4M
AmerisourceBergen = $3.8M
Healthcare Distribution Alliance = $3.5M
McKesson = $2.9M
Rite Aid = $2.8M
Walgreens = $1.4M
Cardinal Health = $1M
Includes lobbying efforts of more than $5,000 Source: U.S. Senate Lobbying Disclosure Electronic Filing System1
Unfortunately, participating in the political process is not optional, but doing so voluntarily helps ensure politicians, who have so much influence over our profession, are informed. Below are a few things you can do to help.
Be a Proactive Participant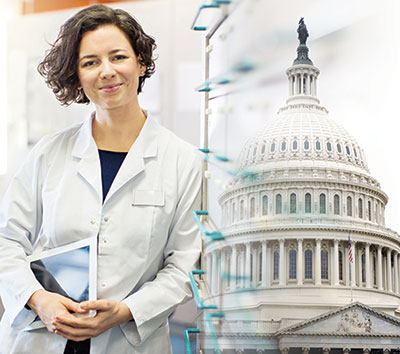 Communicate regularly with your state and national representatives in Congress. This can require meeting with them in person and, on occasion, writing a campaign fund check.
Host a pharmacy visit to your store. Most people do not know everything that goes into dispensing prescriptions. Invite your representatives to visit. NCPA helps coordinate these visits upon request, and we keep a count of them, so please let us know when you host one.
Budget for contributions to NCPA's Legislative/Legal Defense Fund. At least $1/day – about one shiny penny for every $100 of the average pharmacy's revenue – can make a big difference.
Like it or not, being involved in the political process is fundamental to the success of your business. Let NCPA help.
If every independent pharmacy owner gave just $1 a day to NCPA's Legislative/Legal Defense Fund, it would raise $4.5 million a year. Find out more about NCPA's defense fund at www.ncpanet.org/advocacy/.
Douglas Hoey is the CEO of the National Community Pharmacists Association, which represents more than 22,000 community pharmacies in the United States.
Source:
1 Higham, Scott and Lenny Bernstein. The Drug Industry's Triumph Over the DEA. The Washington Post. Oct. 15, 2017. Web. 1 Nov. 2017. www.washingtonpost.com/graphics/2017/investigations/dea-drug-industry-congress/?utm_term=.3e74b6506b9c
Share this post