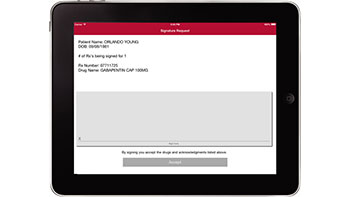 Spartanburg, SC (April 23, 2014) – QS/1 is pleased to announce the release of an iPad app for signature capture. Once eSigcap is installed and configured with the QS/1 Pharmacy Management System, you can use the iPad to collect prescription signatures wirelessly around your pharmacy.
"We see more pharmacists using iPads to help them better manage their time and resources," said Ed Willet, QS/1 Vice President for National Sales. "It was a natural fit to integrate the iPad into our pharmacy management systems."
Connected to your stores wireless network, the iPad lets pharmacy staff pull up medications filled and waiting for a patient signature. The app then syncs the signature back to the pharmacy management system to keep on file.
"Because of the iPad's mobility, it's ideal to help you collect signatures for patient counseling, prescription pick-up and to maintain controlled substance logs," Willet added. "It can be used not only in the pharmacy drive-thru but also around your entire store."
eSigcap requires a password protected login for each staff member to connect, ensuring HIPAA compliance. The eSigcap app is available as a free download from the App Store on Apple's iTunes.
For more information, click here.
Share this post