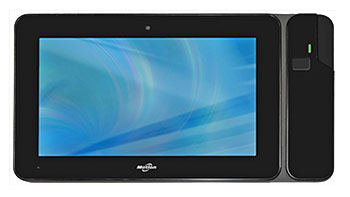 Spartanburg, SC (April 14, 2014) – The convenience of the Motion® SlateMate™ tablet is now available for use with QS/1's Pharmacy Management Systems and Point-of-Sale platforms.
"The SlateMate puts the power of QS/1's applications into your hands," said Charles Garner, QS/1 Market Analyst. "Among the many features, it allows you to process payments and collect signatures. The SlateMate lets you take QS/1's products around your store and at the drive-through window with full functionality."
The SlateMate is a tablet PC that has an integrated magnetic strip reader and a barcode scanner that allows you to check out customers, process credit cards, capture signatures and print receipts on a wireless printer.
"Being a PC, the SlateMate can run a QS/1 Windows client, giving you full access to applications such as QS/1's NRx and Point-of-Sale," Garner added. "You can also add the wireless printer and docking station options to expand the capabilities."
The SlateMate is able to access an in-store Wi-Fi and for outside the store you can use either a hotspot or built-in 4G cellular service, not supplied by QS/1. The SlateMate can be used for bedside checkout functions in a hospital or clinical setting, helping you serve patients while making sure you collect the proper signatures and information.
About QS/1
QS/1, a complete healthcare automation solutions provider, serves pharmacies, HME businesses and LTC facilities. QS/1 is a division of the J M Smith Corporation, the third largest privately held company in South Carolina. For additional information about QS/1, visit www.qs1.com, or call 800.231.7776.
About Motion Computing®
Motion Computing empowers organizations worldwide with technology solutions designed to optimize the performance of mobile workers. Building on a foundation of award-winning technical expertise and decades of industry experience, the Motion team makes it their business to understand your business. Through industry-leading rugged tablet PCs, tailored accessories and services – Motion delivers mobile technology solutions customized to business workflows. For more information, visit www.motioncomputing.com
Share this post