Your pharmacy management software and how it handles ancillary services is the lifeline of your community or long-term care pharmacy. Every pharmacy's goal is to grow and maximize profits while ensuring the best patient outcomes, and keeping your software up to date is a vital part of making sure you have the tools you need to reach your goals. Clinical updates, legal/regulatory changes and enhancements that help you maximize profits are all part of your QS/1 system updates. Most software users fall into one of the stages on the Rogers Adoption Curve (aka the Diffusion Process). Originally, this theory was created with other industries, such as agriculture and home economics, in mind.1 However, as society embraces the digital age, the stages now apply to most software users.
For example, do you stand in line to purchase the latest iPhone® or do you wait a few months and consult others on the pros and cons? Do you update your QS/1 pharmacy system or install recommended Windows® updates as soon as they become available or do you wait until the last possible minute, perhaps the day before a deadline? The following 5 Stages of Adoption should explain which category you typically fall into.2
5 Stages of Adoption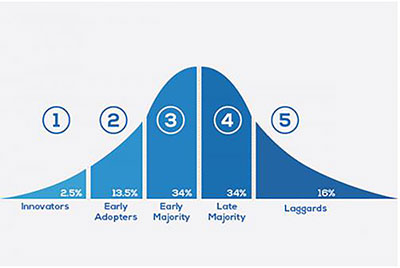 Innovators
This bold, leading-edge group makes up the smallest part of the curve at only 2.5 percent of adopters. This group includes technology enthusiasts who want to be the first to use a new release or feature. They like being able to find new benefits and changes in the updates they receive. Think of these individuals as test sites for new software – alpha users.
Early Adopters
This group is a great example of how new software updates make it to mainstream customers. Representing 13.5 percent of the adoption curve, they serve as the mouthpiece of technology by implementing new updates and communicating with peers and industry partners.
Early Majority
More conservative in nature, this group collects information by reading product release notes and watching training videos before making the jump to new software or products. The Early Majority makes up 34 percent of the adoption curve and is positioned at the top of the life cycle for technology.
Late Majority
This group needs a little push to jump on board with new technology. Their counterparts, the Early Majority, eventually convince them to make the move but not without hesitation. This group also represents 34 percent of the adoption curve.
Laggards
The last portion of the adoption curve, representing 16 percent of consumers, is the Laggards. This group waits until the last minute to make a change to their software. They are sometimes forced to update software based on a regulatory change or due to mandates.3
NRx and PrimeCare Updates
Staying current with system updates ensures you are privy to the latest enhancements designed to help your pharmacy run smoothly and remain competitive. Not regularly updating your software means you are missing out on the latest and greatest enhancements. Benefits include:
Staying compliant with federal and state regulations
Increasing clinical use
Increasing potential cost savings and profits
Major system updates for NRx, PrimeCare, Point-of-Sale, IVR functionality, interfaces, QS/1 Document Management (QDM®) and ShipRx® are released quarterly. Quick Service Updates (QSUs) are released in between development cycles as needed and addenda are released at least once a month.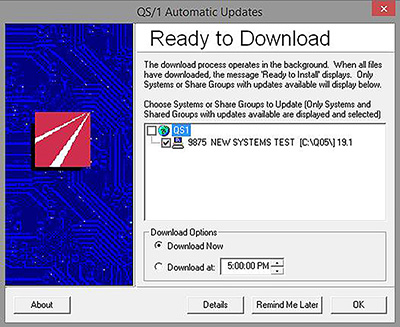 Clinical Updates, which QS/1 receives from First Databank, are posted weekly. The same update process used for system updates pushes updates to your pharmacy. A QS/1 icon displays in your system tray (next to the clock) when available. In order to verify if the icon represents a clinical update only or a software update, click the Details button. To check what service pack or Clinical Update your system is currently running, click Help and then About.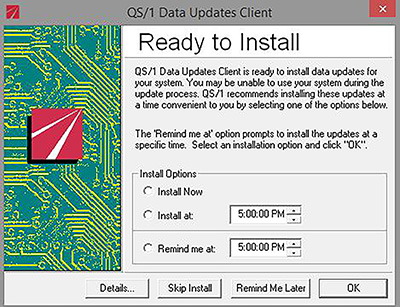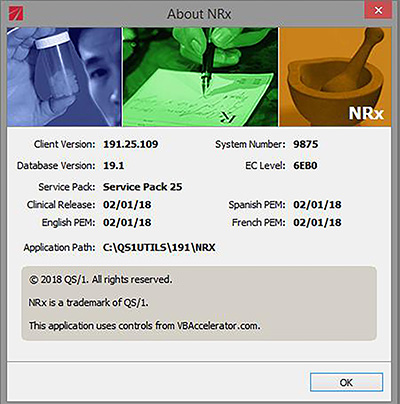 SharpRx Updates
SharpRx uses a different release schedule than QS/1's other products, depending on the features included. Maintaining the most current version ensures your system has the tools to remain competitive in the community pharmacy market.
Clinical Updates are done automatically on a scheduled basis. Every week, SharpRx updates your database. Verify your updates were processed by visiting the Home screen and checking the Daily Tasks/Notifications section.

Point-of-Sale (POS) Updates
Your POS software receives the same quarterly updates as your pharmacy management system. In addition to those updates, there are a few manual upgrades you can install to make sure your POS software performs at its highest level.
The Special Interest Group for IIAS Standards provides a monthly file to determine which items are flexible spending account eligible. Price update files from your wholesaler can be loaded any time, and POS item files can be updated to load new items into your database. Along with this file, you can also load a SKU update file from your wholesaler.
Windows® Updates
Windows updates are very important to the health of your pharmacy management system. You have two options when setting up Windows Updates. Automatic Updates checks every 17 to 22 hours and will automatically pull down any available updates.4 You can schedule those to install automatically or to receive a prompt to install during your next reboot.
You can also manually check for updates. Once they are pulled down, you have the option to install them at your convenience. One of the biggest benefits of keeping Windows updated is the security updates you receive.
Where Do You Fall in the Curve?
Whether you are an Innovator or a Laggard, the importance of keeping your software up to date remains the same. Service packs, addenda and Clinical and Windows Updates make your software more efficient, leaving more time to build customer relationships. A new feature can affect how you stack up against the competition, and a security update can make all the difference when it comes to safeguarding your business.
Sources:
1 Maeli, John-Pierre. The Roger's Adoption Curve & How You Spread New Ideas Throughout Culture. Medium. May 6, 2016. Web. 5 March 2018. https://medium.com/the-political-informer/the-rogers-adoption-curve-how-you-spread-new-ideas-throughout-culture-d848462fcd24
2,3 Hoidas, Amy. Innovation Adoption Curve: Which Consumer Group Do You Belong To? Quality Logo Products. n.d. Web. 5 March 2018. www.qualitylogoproducts.com/blog/innovation-adoption-curve/
4 Fisher, Tim. Windows Updates and Patch Tuesday FAQ. Lifewire. July 12, 2017. Web. 5 March 2018. www.lifewire.com/windows-updates-patch-tuesday-faq-2625777
Share this Post